Physiotherapy BE BALANCED Prague offers top care for the musculoskeletal system of the whole family:
PHYSIOTHERAPY OF ACUTE AND CHRONIC PAIN
Treatment of back pain, herniated discs, spinal and dal blockages.
CUSTOMIZED ORTHOPEDIC INSERTS
Treatment of flat feet for children and adults
GROUP LESSONS
Exercise against back and joint pain
MODERN METHODS
Prof. DNS method wheelbarrows, Fascial manipulation, Visceral manipulation and more.
CHILDREN'S PHYSIOTHERAPY
Diagnosis and therapy of movement disorders from babies to teenagers
PHYSIOTHERAPY FOR WOMEN
We treat problems with the pelvic floor, painful menstruation, functional sterility and more.
SPORTS PHYSIOTHERAPY
Treatment of sports injuries and chronic difficulties during sports
COMPLEX CARE OF HEALTH
Close cooperation of all experts of the center
HIGHLY QUALIFIED PHYSIOTHERAPY IN PRAGUE.
At Be Balanced physiotherapy in Prague 6, we successfully treat back pain associated with tingling in the limbs and herniated discs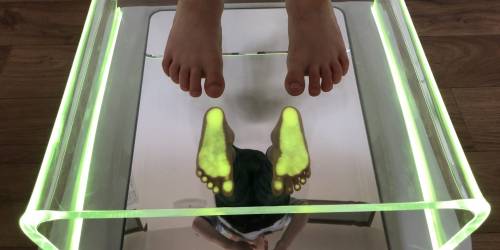 Fabrication of custom-made orthopedic insoles by a physiotherapist
your physiotherapist will make the insoles for you according to the general examination and examination of the feet in static and dynamic tests
the goal is not to create passive support for the leg, but to teach it to work better
we offer orthopedic insoles for various types of footwear – for dress shoes, pumps, sports shoes – for tennis, football or ski boots
we offer orthopedic insoles from the softest to the hardest, according to your needs
includes checking and final finishing of inserts according to your needs
Stopping sports is not a solution! Address the cause of your sports injuries and continue doing what you love.
Effective physiotherapeutic treatment of acute injuries, solution to the cause of pain in the knees, Achilles tendons or back and shoulders during sports.
DIAGNOSTICS AND ANALYSIS OF RUNNING – optimization of running technique, compensatory exercises for runners
PHYSIOLOGY CONSULTATION FOR CYCLISTS – for better efficiency and pain relief while cycling
SPORT EXAMINATION RUN/CYCLE by a doctor to set optimal training
WHAT IS BE BALANCED PHYSIOTHERAPY PRAGUE?
Nothing can perceive and influence tissue better than human hands. Nothing can see small nuances in coordination and posture like the eyes. A physical therapist's best tool is his senses. In Be Balanced physiotherapy, we do not use any splints.
At Be Balanced physiotherapy, we work on the basis of the latest findings of physiotherapy. The basis of Be Balanced physiotherapy work is the DNS method of prof. Bikers. Our university-educated physiotherapists learn from the best in the field. We are interested in new trends in physiotherapy.
At Be Balanced physiotherapy, we are not only looking for quick solutions and temporary relief. We analyze the cause of the difficulties and target the treatment there so that your difficulties do not return. As the nestor of Czech physiotherapy said, prof. Karel Lewit: "He who treats pain in the place of pain is lost".
Each of the Be Balanced physiotherapy therapists specializes in a specific area. This allows us to accommodate a wide range of difficulties in full quality. Therapists communicate with each other and work as a team.
At Be Balanced physiotherapy, we have a multidisciplinary team of experts behind us. We meet regularly, we consult, we educate ourselves. We perceive the patient as a whole, we are interested in the context in which the problems arose and choose an approach accordingly.
Be Balanced physiotherapists care about your well-being. We are empathetic. We listen to you and are interested in your needs and expectations.
At Be Balanced physiotherapy in Prague 6, we successfully solve all kinds of back pain, neck pain, headaches , herniated discs, but also pelvic floor disorders or movement difficulties in children. On the basis of a comprehensive examination, it is usually possible to establish a clear cause of the difficulties, which can be quite far from the place of pain. We apply the most suitable method to the identified cause of pain, e.g. DNS prof. Wheelbarrows, fascial manipulation, manual lymphatic drainage, myofascial medicine techniques, Vojt's method, sensorimotor stimulation, Ludmila Mojžíšová's method, Bobath concept in children's therapy, McKenzie method, Feldenkrais method, yoga or Rolfing elements..